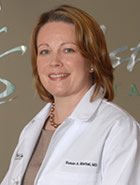 Dr. Susan Akers Blattel graduated from Saint Louis University School of Medicine in 1992. She is also a summa cum laude graduate from Saint Louis University with a Bachelor of Science in Chemistry. Following medical school, she completed an internal medicine internship at St. John's Mercy Medical Center. Then Dr. Blattel participated in a two year clinical research fellowship at Washington University School of Medicine. These clinical trials investigated new therapies for cutaneous T cell lymphoma, scleroderma, onychomycosis, and warts. She has publications in several medical journals and a chapter in a pediatric textbook.
Dr. Blattel completed her residency in dermatology at Barnes-Jewish Hospital at the Washington University School of Medicine. She became board certified in dermatology in 1998 and obtained recertification in 2006. Since finishing residency, Dr. Blattel's practice has focused mainly on medical dermatology, especially the detection and treatment of skin cancers. She treats various skin conditions including eczema, acne, warts, molluscum, contact dermatitis, and psoriasis. She removes moles and skin tags and treats both children and adults. She performs certain cosmetic procedures and emphasizes healthy skin care.
Dr. Blattel is on staff at St. Luke's Hospital in Chesterfield and St. Clare's Hospital in Fenton. She is married and has three children.
Professional Societies and Associations:
1995-present    Missouri Dermatologic Society
1995-present    St. Louis Dermatological Society
1993-present    American Academy of Dermatology
1993-1995   Society of Investigative Dermatology
1991-present    Alpha Omega Alpha, Medical Honor Society
1988-present   American Medical Association
1988-present    Missouri State Medical Association
1987-present   Alpha Sigma Nu, honor society of Jesuit Universities